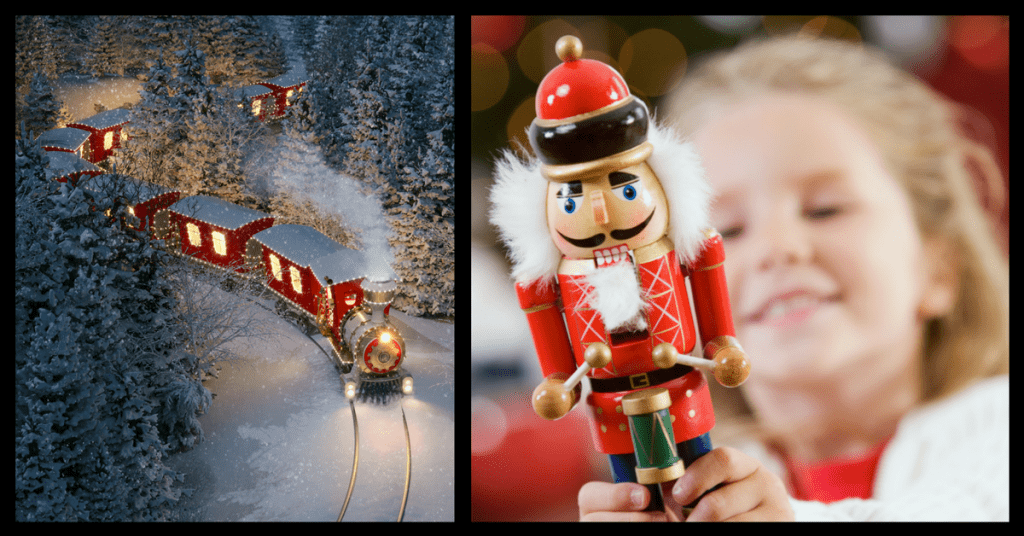 Tickets go fast for these festive train rides, local Nutcracker performances, and live holiday musicals!
We also list local events like tree lightings, holiday strolls and Santa visits. And we're working hard on our map of neighborhoods around the MetroWest with the best light displays and maps of the best sledding hills. Don't miss a thing; subscribe for our helpful newsletter today!
Christmas Train Rides
Blackstone Valley Polar Express, Woonsocket RI
2022: Weekends Nov 11- Dec 23
90 minute train ride with stories, songs, cookies, and hot chocolate in a Polar Express cup. While waiting for your ride, there are photo ops beside Polar Express backdrops, letter-writing to Santa, and gift shop. Photo with Santa after the ride. $55 to $97.
Polar Express: Cape Cod Central Railroad, Buzzards Bay
2022: Nov 25- Dec 23 (Every Weekend & some December weekdays)
Characters entertain onboard during a trip to the North Pole, where Santa and his elves will board the train and give each guest the first gift of Christmas. Hot chocolate and cookies served on board. $44 to $104.
Edaville: Train Ride at Festival of Lights, Carver
2022: Nov 10 – Jan 1
Train ride to see the dazzling lights around the park, but there does not appear to be a Santa experience element as there was pre-pandemic. $29-$32/person admission with unlimited train rides, or $39-$42 to also add amusement rides.
Journey to the North Pole, North Conway, NH
2022: Thurs-Sun Nov 25 – Dec 23
2-hour train ride experience. Hot chocolate and treats while you ride to the North Pole, then leave Santa letters at the Post Office. Visit with elves and hear dramatic "Night Before Christmas" poem at the North Pole Theater. Visit with Santa and receive a special gift. $58 – $78. Proceeds help fund a literacy charity.
Santa's Holiday Express, Conway, NH
2022: Select dates Nov 25 – Dec 23
"Take in the wintery scenes as our train meanders down the Conway Branch, where Santa himself will make a guest appearance to thrill young travelers. Guests can also enjoy complimentary milk and cookies and kids receive a goody bag" $19-$50.
Drama Performances
Cirque Du Suleil "Twas the Night Before…", Boch Center Wang Theatre, Boston
2022: Nov 25 – Dec 11
"An exhilarating spin on the beloved Christmas tale, and Cirque du Soleil's first-ever Christmas production in New England. This festive show brings a flurry of love, Christmas cheer, thrilling acrobatics and hugely lovable characters that will create a new holiday tradition for families to cherish…" $65+
"A Christmas Carol", Stadium Theatre, Woonsocket RI
2022: Dec 9 – 18
"Celebrate the holiday season with the redemption story of Ebenezer Scrooge, a bitter man who is visited by the ghosts of Jacob Marley, Christmas Past, Present, and Future." $29 to $41.
"A Christmas Carol", Hanover Theatre, Worcester
2022: Dec 17 – 23
"Celebrate the holiday season with New England's largest production of Charles Dickens' A Christmas Carol. You know the story and love the message, but you'll never see another Christmas Carol like this! " $28 to $58.
Nutcracker Performances
Boston Opera House, Nov 25 – Dec 31, 2022
by Boston Ballet, with full orchestra
$45 – $200
Hanover Theatre, Worcester, Nov 25 – 27, 2022
Features full orchestra and several principal ballet dancers
$39 – $52
Regis College, Weston, Nov 25 – Dec 18, 2022
by Commonwealth Ballet
$26 – $49
Stadium Theatre, Woonsocket RI, Nov 26-27, 2022
by Heritage Ballet
$20-$45
Maynard HS, Nov 26-27, 2022
by Miss Tricia Dance Studio
$23
Franklin High School, Dec 3-4, 2022
by FPAC Holiday Productions
$45
Walnut Hill School for the Arts, Natick, Dec 3, 2022
by Community Dance Academy
"Gwendolyn's Nutty Nutcracker"
$12-$15
Lincoln-Sudbury HS, Dec 4, 2022
by Dance Prism
$38 – $45
Millis High School, Dec 9-11, 2022
by Terpsichore: Millis School Dance Club
A small local performance; good option for a very low-key first Nutcracker experience
Adults $10, Students/Seniors $7
Pay at the door, no advance tickets sold
Regis College, Casey Theatre, Weston, Dec 10, 2022
by Greater Boston School of Dance
$15-$25
Wayland HS, Dec 10, 2022
by Studios Fitness and Dance
Contact for pricing
Bellingham HS, Dec 10-11, 2022
by Patti Eisenhauer Dance Center
$25
Natick High School, Dec 11, 2022
by Metrowest Dance Academy
$20-$35
Mechanics Hall, Worcester, Dec 11, 2022
by Dance Prism
$38 – $45
Norwood Theatre, Dec 16-18, 2022
by Dancing Arts Center
$38 – $43
Framingham State University, Dec 17-18, 2022
by Mass Ballet
$15 – $25
Bellingham HS, Dec 17-18, 2022
by Greater Milford Ballet Company
Approx. $25 – $30
Hopkinton Middle School, Dec 18, 2022
by Hopkinton Center for the Arts
$20 – $25
Santa Visits, Light Displays, and More
Community Kangaroo is a team of 10 moms scattered between Boston and Worcester. We track down all the best events year-round to help you find everything within a short drive of your house!
We'll be adding every local tree lighting, pancakes with Santa, etc on our jam-packed daily event calendar, and will post our maps of sledding hills and holiday light displays (including the very best neighborhoods to check out). There's much more to come, but you can stay in the loop by signing up for our newsletter for the very best updates!