14 outings near Holliston to add to your summer bucket list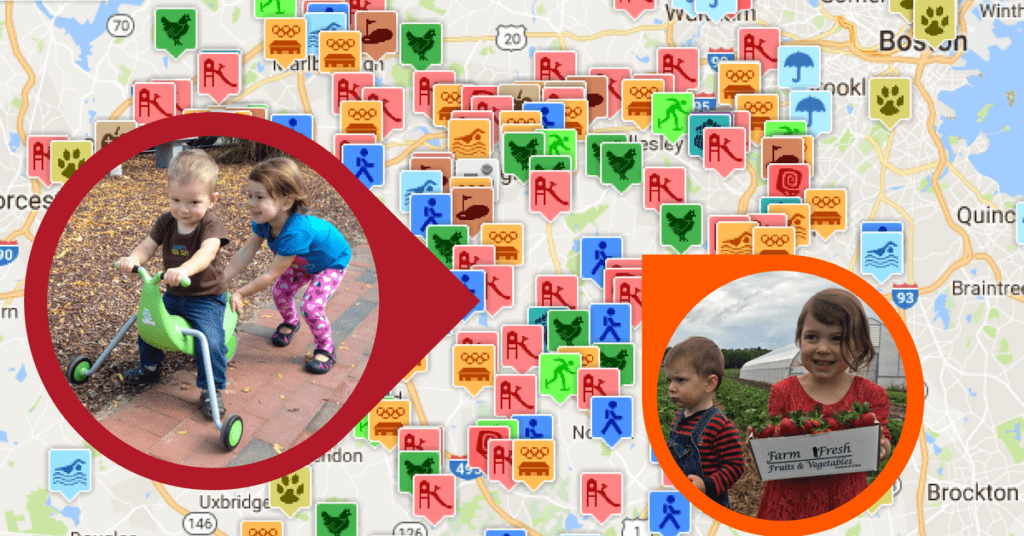 Pick your own berries
PYO Strawberries in June at Tangerini's in Millis, Sunshine in Sherborn, Belkin Family Lookout in Natick, Tougas in Northboro
PYO Blueberries in July-August at Patts in Holliston, Tangerini's in Millis, Jane & Paul's in Norfolk, Gianetti's in Franklin
PYO Raspberries in August-Sept at Tangerini's in Millis, Big Apple in Wrentham, Sunshine in Sherborn
Find all the local PYO spots on our Farm Map (filter by type of fruit)
Always call ahead or check online as picking conditions and availability are variable
Find a new playground
Local favorites for a quick outing:

Goodwill Park, Holliston [Approx 416 Green St]
Choate Park, Medway [Approx 1 Oak St]
Oak Grove Park, Millis [Approx 416 Exchange St]
It's worth a drive to:

Norfolk Kids Place Tot Lot for a turf-covered fenced in tot lot
Sherborn Playground for a beautiful, shady new accessible fenced playground
DelCarte Playground, Franklin for a newly installed (spring 2017) fenced in playground for all ages
WWI Memorial Park, North Attleboro for a multi-story slide, massive sandbox, big playground and free petting zoo

Find these and many more (with GPS addresses) on our Activities Map (filter by "Outdoor Playground")
Cool down at a splash pad
FREE Splash Pad at Choate Park in Medway. For others, you'll have to drive to Hudson, Northboro, Woonsocket RI, Waltham, Belmont, or Marlborough
There are splash pads with Day or Season Rates in Bellingham, Walpole, and at the Capron Park Zoo in Attleboro as well at the Franklin YMCA and Framingham's Clearbrook YMCA
Find all these and more (with GPS addresses) on our Summer Swimming Map
Swim in the ocean
Got toddlers? Some favorite low-surf beaches are Wingaersheek in Gloucester, Nantasket in Hull, Scusset in Sandwich, Mayflower Beach on the cape, and Second Beach in Middletown, RI
Got bigger kids? Horseneck Beach in Westport or Scarborough beach in Narragansett RI have strong surf for boogie boarding, as do some of the beaches on the ocean side of the cape like Nauset Beach.
Our favorite beaches (with GPS addresses) are on our Summer Swimming Map
Celebrate Independence Day
Parades in Natick and Milford, fireworks in Milford and Bellingham, carnival and laser show in Franklin… all the local July 4th festivities are on this list!
Enjoy a concert at the park
Sundays in Hopkinton
Tuesdays in Holliston, Ashland, Milford
Wednesdays in Millis, Franklin, Natick (Children's), Bellingham/Mendon (with free pony rides)
Thursdays in Norfolk, Medfield
See them all on our Jam-Packed Event Calendar
We mention the best upcoming Children's Performers in our Weekly Newsletter
Stay up late for a movie at the park
Choate Park, Medway on Wednesdays
Patriot Place, Foxboro on select Wednesdays
Stone Park, Ashland on Thursdays
Hopkinton Town Common on select Thursdays
Hopedale Parklands on select Fridays
Every movie, along with the title (when available) is on our Jam-Packed Event Calendar
Make an animal friend
Local zoos (See all on our Activities Map, filter by "Museums and Zoos"):

Capron Park Zoo in Attleboro (bring a suit for the splash pad!)
Southwick's Zoo in Mendon (with kiddie rides)
Roger Williams Zoo in Providence (with big animals like giraffes and camels)
Animal Adventures in Bolton (animal rescue center)
Franklin Park Zoo in Boston (Free Fun Friday August 3, 2018)
Buttonwood Park in New Bedford (Free Fun Friday August 24, 2018)
WWI Memorial Park in N. Attleboro (FREE petting zoo, massive slide, epic sandbox area, playgrounds)

Local farms with animals (See all on our Farms Map, filter by "Animals"):

Tangerini's Farm, Millis
Medway Community Farm, Medway
Fairmount Fruit Farm, Franklin
Wenger's Farm, Bellingham
Jane & Paul's Farm, Norfolk
Natick Community Organic Farm, Natick
Belkin Family Lookout Farm, Natick (Fee)
Take a hike
Noon Hill in Medfield
DelCarte in Franklin
Stony Brook in Norfolk
Ashland Reservoir
Center Trail in Hopkinton
Hopkinton State Park
Whitehall Reservoir in Hopkinton
Cranberry Bog in Foxboro
Joe's Rock in Wrentham
Purgatory Chasm in Sutton
Local Rail Trails
All these and more are on our Activities Map (filter by "Hikes")
Explore a new museum
Check for discounted passes at the library, or look into memberships that offer reciprocal free admisssion to many additional museums. Museum of Science has a great one!
Find all of these on our Activities Map (filter by "Museum or Zoo"):

Discovery Musuems in Acton are a blast for toddlers and pre-K (Free Fun Friday July 20, 2018)
Easton Children's Museum is great with even young toddlers (Free Fun Friday June 29, 2018)
Boston Children's Museum is excellent for a variety of ages (Free Fun Friday July 6, 2018)
Providence Children's Museum has free parking and lots of hands-on fun
EcoTarium in Worcester is at its best in the summer, with indoor and outdoor exhibits (Free Fun Friday August 31, 2018)
Musuem of Science in Boston is best for kids in elementary school
New England Aquarium is a local destination for your water animal fix, or it's worth the trip to the Mystic Aquarium in CT
Make a mess at someone else's place
Drop-in Pottery Painting: The Pottery Place (Medfield), Kidz Plaster Zone (Franklin), Once Upon a Kiln (Bellingham)
Drop-in Arts and Crafts of Many Types: Whimsy (Framingham), Kids Place for Fun (Needham)
Score a strike
Kid Bowl Free with 2 free games each day all summer long when you sign up at www.kidsbowlfree.com (Valid at Pinz Entertainment in Milford)
Our Activities Map also includes all the local bowling alleys, including Ryan Family in Millis and Splitsville in Foxboro
Give mom and dad a moment of peace!
See our detailed list of Summer Drop-Off Programs (camps and the like), where we list age range, dates, and times. Some are very flexible, with options for 1 or 2 days each week
Carnivals, Touch-a-Truck, Festivals, Free Library Events
Community Kangaroo is a team of 10 parents in the Boston suburbs who bust our tails filling the calendar with hundreds of local family events each month.
Michelle in Holliston writes this region's free weekly newsletter, which is just as helpful as this list. Subscribe here, and have an awesome summer!