14 outings near Foxboro to add to your summer bucket list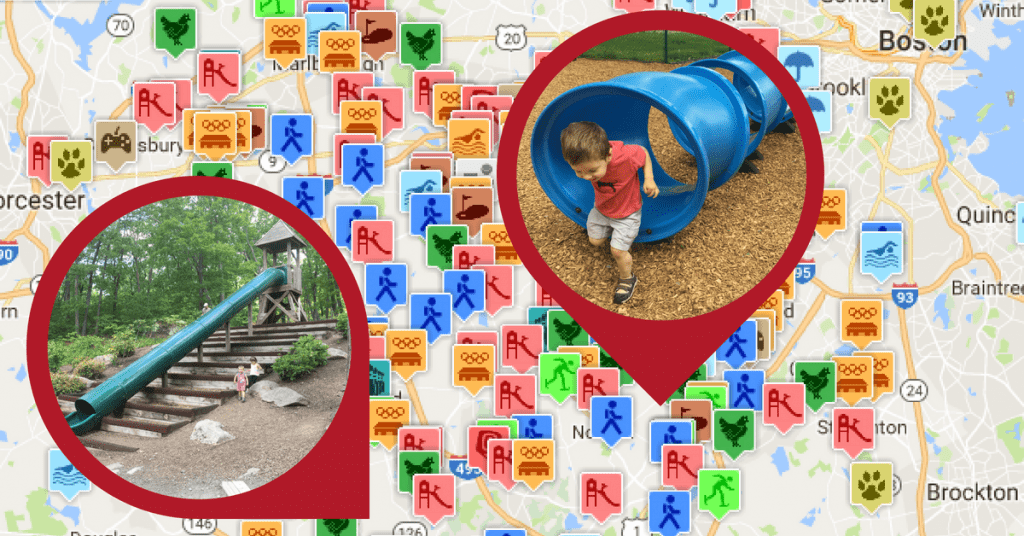 1 – Pick your own berries
PYO Strawberries in June at Wards in Sharon, Tangerini's in Millis, Langwater Farm in North Easton
PYO Blueberries in July-August at Big Apple in Wrentham, Jane & Paul's in Norfolk, Gianetti's in Franklin, Tangerini's in Millis, Wards in Sharon
PYO Raspberries in August-Sept at Big Apple in Wrentham, Tangerini's in Millis, Wards in Sharon,
Find all the local PYO spots on our Farm Map (filter by type of fruit)
Always call ahead or check online as picking conditions and availability are variable
2 – Find a new playground
Local favorites for a quick outing:

Payson Park, Foxboro [Approx 38 Payson Rd]
Booth Playground, Foxboro [Approx 80 South St]
Delaney School Playground, Wrentham [Approx 120 Taunton St]
Osborne Nursery, Plainville [Approx 80 Washington St]
Telford Park, Plainville [Approx 142 Stouth St]
It's worth a drive to:

Norfolk Kids Place Tot Lot for a turf-covered fenced in tot lot (best on cooler days as there is no shade)
Westwood Tot Lot for a shady fenced in wood-chip spot for toddlers
DelCarte Playground, Franklin for a newly installed (spring 2017) fenced in playground for all ages
WWI Memorial Park, North Attleboro for a multi-story slide, massive sandbox, big playground and free petting zoo
WWII Memorial Park, Woonsocket RI for a free splash pad and fenced-in playground
School Street Playground, Westwood for an elaborate fenced-in playground with an extensive set of structures for a wide range of ages
Bird Park, Walpole for a playground in sand next to a large paved loop for stroller-walking or bike-riding
Kasper Playground, Bellingham for a massive multi-story playground next to a splash pad and beach (day rates apply)
Imagination Station, Randolph for a creative, fun playground and free splash pad
Mansfield Memorial Park for a new large playground in 2017 (limited shade)

Find these and many more (with GPS addresses) on our Activities Map (filter by "Outdoor Playground")
3 – Cool down at a splash pad
You'll have to drive a bit to find FREE Splash Pads in Braintree, Randolph, West Roxbury, Freetown, and Woonsocket RI.
Even farther (but totally worth it) is Nelson Park in Plymouth, right on the beach (very limited parking)
There are splash pads with Day or Season Rates in Walpole, the Capron Park Zoo in Attleboro, Briggs Playgound in Attleboro, Silver Lake in Bellingham, and at the Foxboro and Franklin YMCA.
Find all these and more (with GPS addresses) on our Summer Swimming Map
4 – Swim in the ocean
Got toddlers? Some favorite low-surf beaches are Wingaersheek in Gloucester, Nantasket in Hull, Scusset in Sandwich, Mayflower Beach on the cape, and Second Beach in Middletown, RI
Got bigger kids? Horseneck Beach in Westport or Scarborough beach in Narragansett RI have strong surf for boogie boarding, as do some of the beaches on the ocean side of the cape like Nauset Beach.
Our favorite beaches (with GPS addresses) are on our Summer Swimming Map
5 – Celebrate Independence Day
Parades in Norwood and Walpole, fireworks in Foxboro, Sharon, Franklin and Walpole, carnival in Franklin… all the local July 4th festivities are on this list!
6 – Enjoy a concert at the park
Sundays in Wrentham and Sharon
Tuesdays in Walpole, North Attleboro, and Norwood (Children's)
Wednesdays in Franklin, Sharon, Plainville (kids' performer), and Mansfield
Thursdays in Foxboro, Norfolk, and Sharon (kids' performer)
See them all on our Jam-Packed Event Calendar
We mention the best upcoming Children's Performers in our Weekly Newsletter
7 – Stay up late for a movie at the park
Patriot Place, Foxboro on select Wednesdays
South Common, Mansfield on select Wednesdays
Summer Scoops, Plainville on select Fridays
Stone Park, Walpole on select Saturdays
Norton Mini Golf nightly (excluding XFinity Center concert nights)
Every movie title is on our Jam-Packed Event Calendar
8 – Make an animal friend
Local zoos (See all on our Activities Map, filter by "Museums and Zoos"):

Capron Park Zoo in Attleboro (bring a suit for the splash pad!)
Southwick's Zoo in Mendon (with kiddie rides)
Roger Williams Zoo in Providence (with big animals like giraffes and camels)
Franklin Park Zoo in Boston (Free Fun Friday August 3, 2018)
Buttonwood Park in New Bedford (Free Fun Friday August 24, 2018)
WWI Memorial Park in N. Attleboro (FREE petting zoo, massive slide, epic sandbox area, playgrounds)

Local farms with animals (See all on our Farms Map, filter by "Animals"):

Southridge Farm Nursery, Walpole
Winslow Farm Animal Sanctuary, Norton
Wards Berry Farm, Sharon
Crescent Ridge Dairy, Sharon
Wenger's Farm, Bellingham
Jane & Paul's Farm, Norfolk
Fairmount Fruit Farm, Franklin
Briggs Nursery, N. Attleboro
Adams Farm, Cumberland RI
9 – Take a hike
Cranberry Bog in Foxboro
Gilbert State Park in Foxboro
Joe's Rock in Wrentham
Moose Hill in Sharon
King Philips Rock in Sharon
Stony Brook in Norfolk
DelCarte in Franklin
Bird Park in Walpole
NRT Sheep Pasture in North Easton
Borderland State Park in Easton
Monastery Park in Cumberland
Blue Hills in Milton
Attleboro Springs behind La Salette in Attleboro
Harold Burns Arboretum in North Attleboro
Valley Halls Park in Cumberland
Diamond Hill Sate Park in Cumberland
Purgatory Chasm in Sutton
All these and more are on our Activities Map (filter by "Hikes")
10 – Explore a new museum
Check for discounted passes at the library, or look into memberships that offer reciprocal free admisssion to many additional museums. Museum of Science has a great one!
Find all of these on our Activities Map (filter by "Museum or Zoo"):

Discovery Musuems in Acton are a blast for toddlers and pre-K (Free Fun Friday July 20, 2018)
Easton Children's Museum is great with even young toddlers (Free Fun Friday June 29, 2018)
Boston Children's Museum is excellent for a variety of ages (Free Fun Friday July 6, 2018)
Providence Children's Museum has free parking and lots of hands-on fun
EcoTarium in Worcester is at its best in the summer, with indoor and outdoor exhibits (Free Fun Friday August 31, 2018)
Musuem of Science in Boston is best for kids in elementary school
New England Aquarium is a local destination for your water animal fix, or it's worth the trip to the Mystic Aquarium in CT
11 – Make a mess at someone else's place
Drop-in Pottery Painting: Kidz Plaster Zone (Franklin), Creative Community Center (Mansfield), The Painted Turtle Ceramics (Attleboro), Pea Poddery (Cumberland)
12 – Score a strike
Kid Bowl Free with 2 free games each day all summer long when you sign up at www.kidsbowlfree.com (Valid at Pinz Entertainment in Milford)
Our Activities Map also includes all the local bowling alleys, including Splitsville in Foxboro, Kings in Dedham, North Bowl Lanes in North Attleboro
13 – Give mom and dad a moment of peace!
See our detailed list of Summer Drop-Off Programs (camps and the like), where we list age range, dates, and times. Some are very flexible, with options for 1 or 2 days each week
14 – Carnivals, Touch-a-Truck, Festivals, Free Library Events
Community Kangaroo is a team of 10 parents in the Boston suburbs who bust our tails filling the calendar with hundreds of local family events each month.
A Foxboro-area mom writes this region's free weekly newsletter, which is just as helpful as this list. Subscribe here, and have an awesome summer!